---
LUDOVIK MATERIAL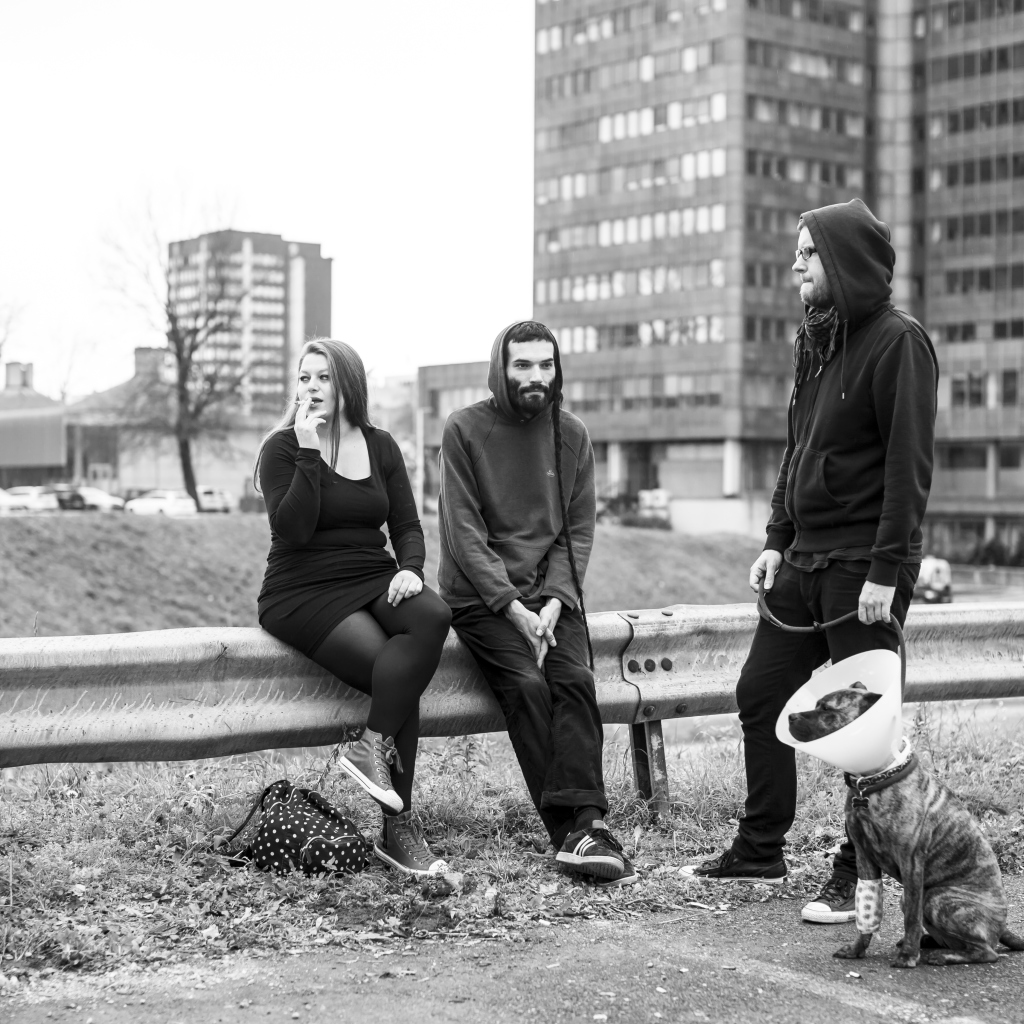 Booking & info: matic@kaparecords.com
NEW album Model Generation (2015)
Videosingle "All Yours" (2016)
Album Passion for Red (2012)
Web
Facebook
Videosingle "Workin' Ass" (2015)
Videosingle "Model Generation" (2015)
Videosingle "Made In (alpha male mix)" (2014)
Videosingle "Večerni program" (2013)
Video: Hrup Studio sešn (2012)
Video: "Kraljević Marko" (Hrup Studio sešn) (2012)

Ludovik Material are a sonic beast coming from Ljubljana, Slovenia, whose post-punk, post-riot grrl noise comprise the elements of proto-goth darkness and krautrock repetition boosted by a unique blend of electro-pop catchiness and mosh-pit electric guitar frenzy. The inimitable combo of their trancy synthetic throb, distorted guitar riffs, rapid-fire analog percussion and frontwoman charisma are sure to turn one's assumption of the Balkans upside down.
They released their debut album Passion for Red in KAPA Records in 2012.
NOW: The band just put out their new release Model Generation (2015). Sadly, Jernej Koren, the previous drummer, was unable to continue and was so replaced with Jaka Berger, one of the most productive and most sonically daring musicians of the Slovenian underground music scene. The new album Model Generation was released on March 15th 2015. The band's sound has gone through a maturing evolution which has tightened, thickened and freshened their already distinctive and gutsy noise. The album wanders into experimental off-shots of noise rock, post-punk distortions, electro-pop catchiness, floating ambiental passages and moving post-rock escalations. At the same time it manages to merge all these elements into transcedental compositions. The ideology of Ludovik Material, who was proclaimed as »the band of the day« at MENT Festival Ljubljana by the legendary musician and journalist John Robb for his online rock music and pop culture magazine Louder Than War, comes alive on the band's new album in all its bitter self-irony. You see, that »model generation«, featured in their album's manifesto, is not only the generation of narcissistic selfie models. Or is it?
As a band never tired of gigs besides visiting home clubs and festivals (Lent, Trnfest, Kamfest, Kopergroud, Trnje, etc.) they are constantly on the road whether touring the places of our common ex-country (Croatia, Serbia, Macedonia, Bosnia and Herzegovina) or elsewhere around Europe (Austria, the Czech Republic, Germany, the Netherlands). They have been chosen by the prestigious Liverpool Sound City festival to play in 2015 alongside such greats as Belle and Sebastian, The Flaming Lips, Thurston Moore, The Vaccines, Iceage, Swans and many, many more.
MEDIA ON THEIR NEWEST, SOPHOMORE ALBUM MODEL GENERATION:

"Ludovik Material, with their subject matter, interpretative grasp and energetic musical process that is rooted in post-punk's intensity, excellent cadence and strong dismal undertones, just might get their foot in the door abroad, and deservedly so."
Veljko Njegovan, MLADINA
"The unyielding Ludovik Material really transcend over and beyond with their new album Model Generation, proving once again that they have the potential to be one of the new European greats in the contemporary rock world."
Igor Bašin "BIgor", ODZVEN

"Here is to hoping that the trio starts getting more gigs abroad and get big in general, because they really deserve it with their musical originality presented on Model Generation."
Jaša Bužinel, RADIO ŠTUDENT
"This band deserves a stage on which it can release its inner demons. It offers you a fresh look of how post-punk can be, especially when mixed mix with these many influences."
Jurgen Braeckevelt, PEEK-a-BOO MUSIC MAGAZINE (be)
MEDIA ON THEIR DEBUT ALBUM PASSION FOR RED:
"Ludovik Material have shown to be one of the most impressive bands coming from Slovenia at this moment and most probably even wider because they sound really modern. It's just like Berlin discovered Great Britain – in terms of dance, dynamics, rhythm, and noise, etc."
Siniša Mikalužić, MUZIKA.HR
"Red-hot and dangerously sexy."
Maruša Bertoncelj, ODZVEN
"Ludovik Material combine various expressive elements and are not scared of dealing with different genres, adjusting them if needed."
Luka Vučkovič, RADIO ŠTUDENT
"Drawing on (post)punk, trip-hop, trance, electro, noise and anti-consumerist ideals, their debut album Passion for Red, was described by aficionados as Slovenia's freshest hotchpotch of rock, electronica and politics, the soundtrack to Occupy movement, and even as the new Žižek on the shelves of Slovenian underground music library."
BTURN
Discography:
– Passion for Red (KAPA Records, 2012)
– Model Generation (KAPA Records, 2015)
REVIEWS for Model Generation:
MLADINA (slo) 4/5
ODZVEN (slo)
RADIO ŠTUDENT (slo)
ROCKLINE (slo) 4/5
KORIDOR – KRIŽIŠČA UMETNOSTI (slo) +
TERAPIJA (cro) 8/10
MUZIKA.HR (cro) 4/5
PEEK-a-BOO MUSIC MAGAZINE (be) 87/100
END-OF-THE-YEARS LISTS OF TOP ABLUMS, 2015 (MODEL GENERATION):
PEEK-a-BOO MUSIC MAGAZINE (be)
RADIO ŠTUDENT (slo)
KORIDOR – KRIŽIŠČA UMETNOSTI (slo)
REVIEWS for Passion for Red:
ODZVEN (slo)
RADIO ŠTUDENT (slo)
ROCKONNET (slo)
MLADINA (slo) 4/5
ROCKLINE (slo) 3,5/5
13. BRAT (slo)
PROFANITY (slo)
MUZIKA.HR (cro) 4/5
BTURN (en)
NATURES WITH NO PLAGUES (en)
KATHODIK (it)
UPCOMING EVENTS :                                                                
AEC v1.0.4
---